Hail, James Harden: New King of the Unassisted 3
When Stephen Curry unanimously won MVP in 2015-16, it was in large part because he redefined the pull-up, hitting off-the-bounce shots from downtown at a previously unseen rate. The season rightfully earned Curry the honor of "Greatest Pull-up Shooter in the World", and it's an unofficial one he has carried to today.
But James Harden has now quietly surpassed Curry's prowess at sinking jumpers off the dribble, albeit without the same fanfare.
As apocryphal as that sounds, it's hard to argue with the facts. Whether we're talking about this season or even history, Harden has a legitimate claim to the throne as the greatest pull-up shooter of all-time.
He's Having the Best Pull-Up Season in History
Based on data at PBPstats.com, Curry hit a sensational 177 unassisted 3s (the most in NBA history) during his transformative 2014-15 season.
(Small footnote here: This conclusion is logically derived, as the data available to verify such details only goes back to the 1996-97 season. There weren't many players who topped 177 3s made, and most of them had around 80-95 percent of their 3s assisted. As far as I can find, the record holder before the explosion led by Curry's breakout was 105, set by Tim Hardaway during the 1996-97 season.)
What Harden is doing, however, is another step forward from Curry's magical year.
Harden's averaging 4.0 unassisted 3s per game. During Curry's second MVP run, the Bearded One averaged just 2.24. He had 2.21 in 2016-17 and 2.7 in 2017-18. Those are the only four instance in NBA history of a shooter racking up more than two unassisted treys per game, and he is now averaging twice that many this season.
He is on pace to hit 276 this year (accounting for the three games he's missed) which would shatter the NBA record of 196 he set in 2017-18. He's already made 132 and needs just 64 more to break his own mark.
In fact, he's on track to break it in 16 more games, which would have him doing it early February. Even if his pace falls off significantly (to around 3.1), he'll still do it before the All-Star break.
To visualize what he's doing, here's a look at the league leader, by season, and where Harden would finish if he continues at his present rate: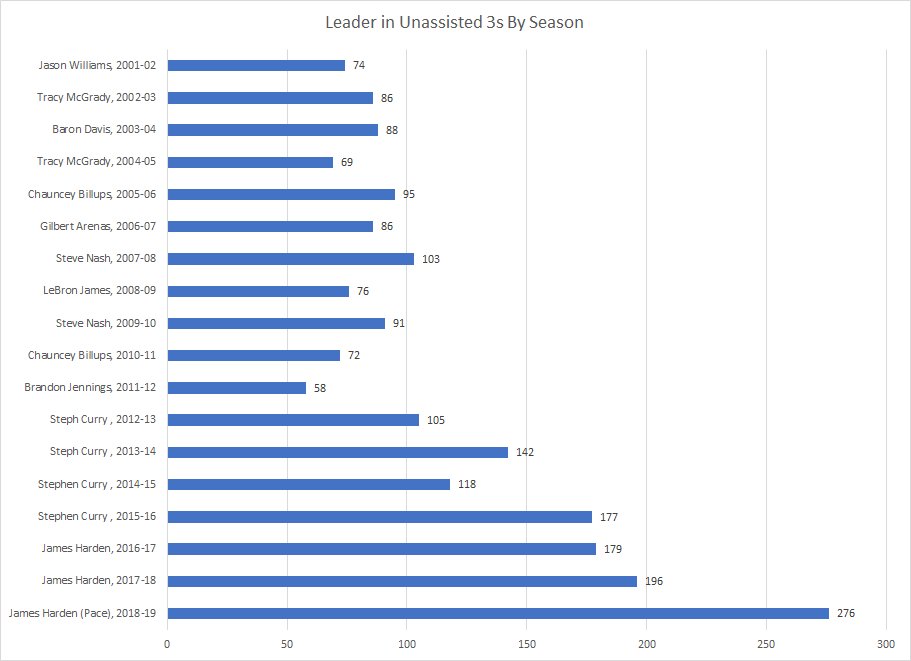 Significant Regression Is Not a Foregone Conclusion
While this year has taken pull-up shooting to another level, it's not as if Harden is doing this out of nowhere. Even as you can see from the chart above, he already has the two best season in history, having eclipsed Curry's best twice. And you can see from the chart below that Curry certainly earned his title by leading the league for five straight years. But Harden has definitively taken over as the best and is now blowing the league apart.
Here is (roughly) the all-time leaders (bearing in mind that pre-2000 stats are not available):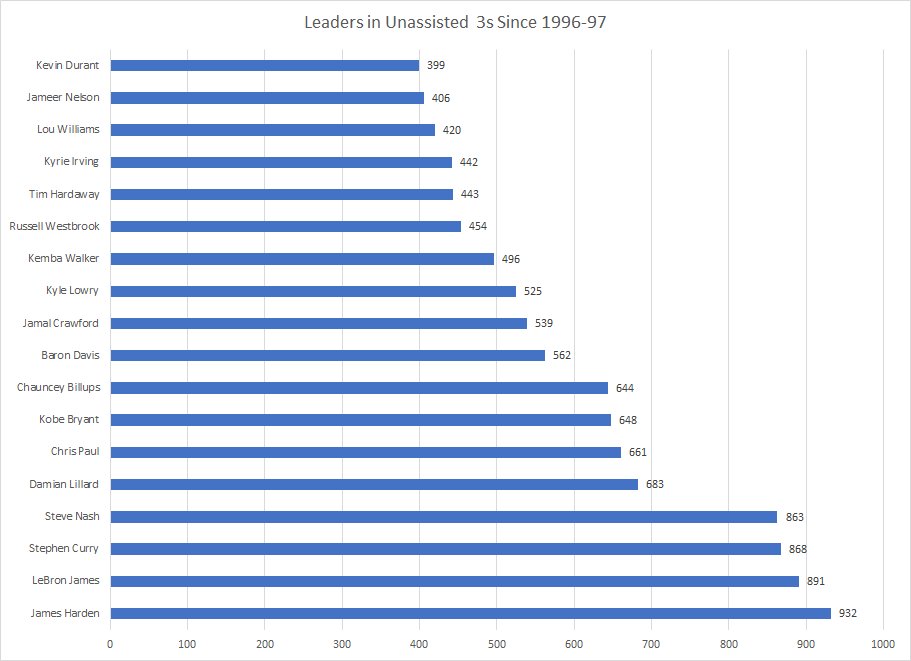 Pull-up jumpers are not exactly the same thing as unassisted 3s, but most unassisted 3s are pull-ups and most pull-ups are unassisted 3s. A pull-up jumper is when a player shoots shortly after catching the ball—which means they can be assisted on. For instance, if there's a pass to a player who dribbles once to move out of the way of a close-out, that can get an assist and be considered a pull-up.
There are also times (think Carmelo Anthony here) where a player can hold the ball, feint several times, and the just pop a 3. In those cases, it won't be an assist, but it won't be a pull-up because too much time passed.
So we're not talking about the exact same grouping here, though the Venn diagram of the two would look pretty close to a circle, We can measure efficiency on pull-ups, thanks to the Second Spectrum stats at NBA.com and, according to them, the Beard is not only the leader in made pull-up 3s, he's also the leader in effective field-goal percentage among players with 200 shots. When you're the most proficient and the most efficient, that's a pretty impressive bar.
The Hidden 3s
While some people complain about it, (OK, most people), Harden draws a lot of fouls, and a lot of those fouls are also 3-pointers, much to the chagrin of many.
In fact, Harden does that more than anyone in the NBA, and by a hefty margin. This season, he's drawn shooting fouls while attempting 3s 39 times and made seven of those. All told, that amounts to 103 free throw attempts while shooting from deep. He has made 92 of those, according to Basketball-Reference.com.
So, when you factor that into his efficiency while shooting pull-ups, he has scored 515 points on 394 true shooting attempts for a 65.4 true shooting percentage on what might be the most difficult and impactful shot in basketball. (Conceding the point here that it's possible not all the 3s that drew fouls would have been or were unassisted shots—but considering 87 percent of his attempts are unassisted and a defender's presence makes it even more likely it's not a catch-and-shoot—it's unlikely that enough of them would be assisted to have any real impact on the conclusion).
You can argue that Harden flops too much, and as much as the league has tried fiddling with the rules, it doesn't have any impact on stopping him. You can argue he travels with his step-back. The refs disagree.
What you can't argue is that, right now, few scenarios are as frightening or devastating for an NBA defense than James Harden with the ball in his hands at the top of the 3-point line.
All hail the king.
Kelly is a TBW co-Founder and frequent contributor. He spent 4.5 years in the USAF before attending University of Minnesota, Bible college in Anaheim and 15 years in youth ministry. Basketball blogger-turned-NBA Featured Columnist with Bleacher Report, BBallBreakdown, Fansided, The Step Back, Hoops Habit, SportsNet, Vantage Sports, Dime and FanRag, among others, his work has been read over 25 million times. The former NBA Assistant Editor at FanRag (2016-18), he is an NBA Twitter staple who is well-connected and respected among today's finest basketball writers.